CELEBRATE THE CELTIC HOLIDAY!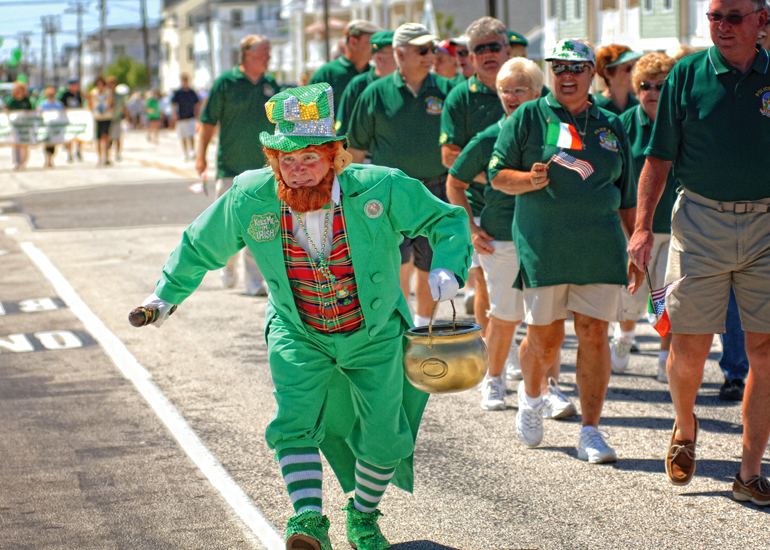 Come St. Patrick's Day, everyone is at least a little bit Irish. For local residents and regular visitors to New Jersey's Southern Shore Region, the holiday is not only a celebration of all things Irish, but a harbinger of the season to come. After all, with Daylight Savings Time in effect beginning March 12, and the official start of spring on March 20, there's more than enough reason for Irish eyes to be smiling! No matter how much or little you claim as Irish heritage, there are plenty of ways to celebrate the Celtic holiday in New Jersey's Southern Shore Region.
This year, St. Patrick's Day falls on a Friday, allowing for an entire weekend of opportunities. Myriad taverns and restaurants in Cape May and Cumberland counties will be celebrating the holiday with lively music, endless good cheer, and even Americanized versions of Irish cuisine.
Jersey Shore Wineries, Breweries & Distilleries | NJ Southern Shore
The locale that is most associated with Irish heritage, North Wildwood, will celebrate the holiday a week early. After a Mass at the local Catholic Church in Wildwood, the City of North Wildwood will hold a noontime ceremony at City Hall (Ninth and Atlantic avenues), where a parade replete with bands and an Irish pipe brigade, will proceed to the city's bar district in the northern section of the city. There, places that have become popular throughout the year — and in particular during the city's Irish Fall Festival held every September – will mark the occasion. To be sure, venues like The Anglesea Pub, Keenan's, Curran's Irish Inn, and Inlet on Olde, as well as other Irish spots such as Owen's Pub, Mulligan's, Goodnight Irene's, Cattle 'n Clover, Olde City Pub, and Fitzpatrick's Crest Tavern, will be celebrating all things Irish over the weekend of March 17. The Mudhen, a restaurant and brewery located on Rio Grande Avenue (the main street leading into Wildwood), has live Irish music scheduled for Friday and Saturday, March 17 and 18.
In Cape May, a St. Paddy's Day Plunge into the Atlantic Ocean and a 5K run are planned for Saturday, March 18. Carney's, the coordinator of the event, has an entire weekend planned, including a pre-plunge beef and beer on the 17th, and a "Kegs and Eggs" party before the Saturday events. The 5K run – and a 1-mile walk – are set to go off at 11 a.m., followed by the plunge at 12:30 on the beach. Carney's, along Cape May's Beach Drive, has further events planned over the weekend. Visit www.carneysnj.com for more information.
Lest you think Carney's is the only place to celebrate St. Patrick's Day, Places like the Ugly Mug and Delaney's on Cape May's picturesque Washington Street Mall, along with the C-View Inn, near Cape May's harbor, will surely be marking the occasion. Heading north, Jester's Dive Bar, formerly Rio Station, will be open and is gaining a reputation as the place to enjoy live entertainment and great American food. Still further north, on the Seven Mile Beach, popular taverns like Fred's in Stone Harbor and the Princeton and Avalon Brew Pub in Avalon, will no doubt be lively, as will O'Donnell's Pour House in Sea Isle City.
Over in Cumberland County, it's a sure bet that the Old Oar House Irish Pub in Millville will be celebrating the holiday, as well as The Brass Tap in Bridgeton.
Although accommodations are not nearly as abundant as they are "in season," all of the region's resorts have some hotels, motels, or rentals available.
St. Patrick's Day weekend is a perfect opportunity to visit New Jersey's Southern Shore Region to enjoy all the area has to offer without the crowds that populate the region in the prime summer months. Give it a try, because "when Irish hearts are happy, all the world seems bright and gay."
Slainte!