BIRDING AND BUTTERFLIES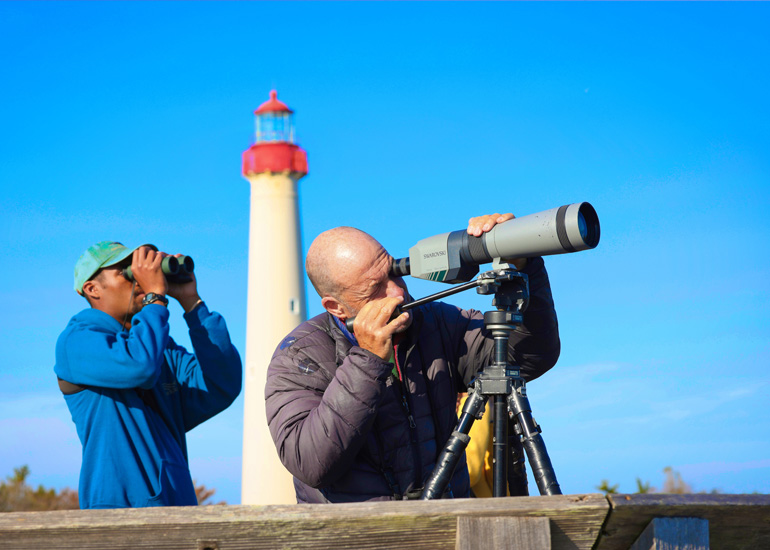 Whether you're among the 45 million Americans who are birders or simply have a passing interest in observing the graceful winged creatures, the Southern Shore Region of New Jersey – encompassing Cape May and Cumberland counties – is a hotbed of activity in the autumn months.
With myriad protected areas and a variety of habitats, the whole Delaware Bay coastal area is the perfect spot for birding throughout the year, but come fall, the Southern Shore Region is THE place to spot millions of migrating raptors, shorebirds, butterflies and dragonflies. The Delaware Bay, which Cumberland and Cape May counties abut, is smack in the middle of the migration path of many species of birds and Monarch butterflies fly over the region during their 3,000-mile trip to Mexico.
The Cape May Bird Observatory,
which is operated by the NJ Audubon Society, started its Monarch Monitoring Project in 1990. The project focuses on the fall migration of the Monarch, which is the only species to make the two-way trip to Mexico and back. Each year, thousands and thousands of these soaring beauties funnel through Cumberland and Cape May counties, delighting casual observers and lepidopterists as they stopover in the region for rest and nourishment.
Likewise, the waterfowl and shorebirds traverse the region in search of warmer climes. Following a similar route through the Southern Shore funnel to the Delaware, the many bird species to pass over the area enchant those with a basic appreciation of birds to the most serious ornithologists.
In addition to the Delaware Bay, the Maurice River is an important part of the Atlantic Flyway for raptors, shorebirds, songbirds, and waterfowl. Flowing into the Delaware Bay, the Maurice River is home to more than 29 species of wintering waterfowl.
Places like Bridgeton City Park, Union Lake, East Point Lighthouse, West Side Park, Maurice River Nature Area, Willow Oak Nature Area and more than nine Fish and Wildlife Management Areas are all spots to enjoy birding during the autumn months.
Cape May County has several nature organizations that focus on birding and butterflies from September through December. The Nature Conservancy operates the South Cape May Meadows center, as well as the Garrett Family Preserve. The Cape May Bird Observatory operates the Northwood Center of Cape May Point, and the Nature Center of Cape May. Furthermore, the Cape May Bird Observatory, which conducts the Cape May Hawkwatch from Sept. 1 to Nov. 30, also runs the Avalon Seawatch from Sept. 22 to Dec. 22. Interestingly, Avalon ("Cooler By a Mile") extends one mile into the Atlantic than its neighbors to the north. Observers have logged more than 700,000 waterbirds in typical years, with that number soaring past one million in some years.
Wildlife Management areas in Cape May County include Beaver Swamp, Cape Island, Cape May Coastal Wetlands, Cox Hall Creek, Dennis Creek, Higbee Beach, Spicers Creek, and Lizard Tail Swamp Preserve.
Most parks and wildlife management areas are free and open to the public, but some of the local organizations host birding events or walks for a nominal fee. Higbee Beach Birding, a two-hour walk, is held Fridays. Above Par Birding, at Cox Hall Creek WMA in Villas, is held Sunday mornings from 7:30 to 9:30. A Meadows Afternoon is held Fridays from 3 to 5 p.m. at South Cape May Meadows, E-Z Birding is held at Cape May Point State Park from noon to 2 p.m. Thursdays, and Migration at the Point is held Wednesdays from 7:30 to 9:30 a.m. in Cape May Point State Park.
On Sept. 16, the Wetlands Institute, Stone Harbor Boulevard, will host a Fall Migration Festival with nature activities, crafts, and guided tours. Although it is several months away, Cumberland County, which has the largest number of nesting bald eagles in the state, hosts a Winter Eagle Festival, usually in February.
New Jersey's Southern Shore Region, with its lush coastal setting, is a safe haven for our winged friends, and a visual feast for those who appreciate them.