RAINY DAY ACTIVITIES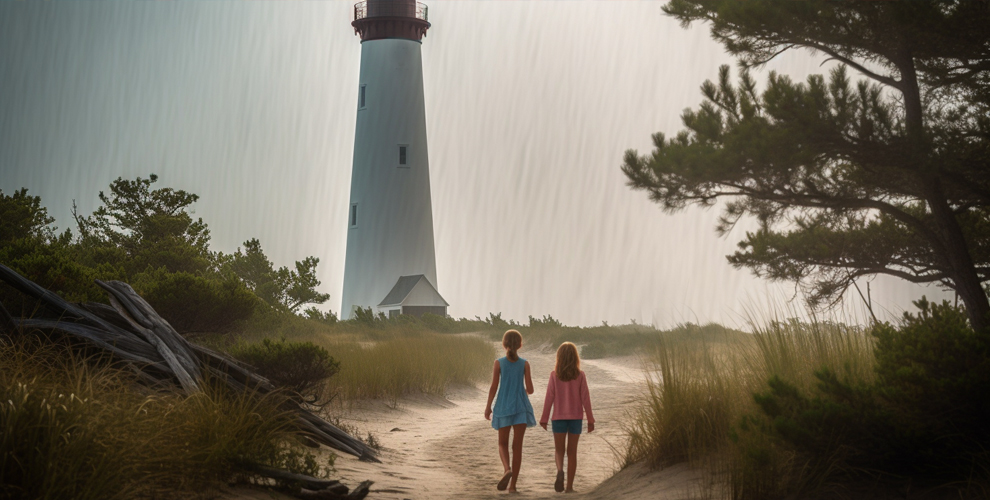 With luck, the skies during your vacation will always be blue, the sun will shine brightly each day, and the wind will always be light and at your back. Unfortunately, as Henry Wadsworth Longfellow wrote and The Ink Spots sang, "Into every life a little rain must fall." While New Jersey's Southern Shore Region is geared for warm-weather, outdoor pursuits, a day away from the sun can be a welcome respite.
If you think the only thing to do in the region is to sit in your rental unit or motel room and watch television, you'd have to think again. While the beaches and other popular outdoor attractions usually never close, let's face it: very few people enjoy outdoor activities in a downpour. Luckily, there are many activities in the area that can be enjoyed on a rainy day.
For those enjoying a Southern Shore getaway without children, the area's wineries are always a great option. In Cape May County, there's
Cape May Winery
,
Willow Creek Winery
,
Jessie Creek Winery
,
Natalie Vineyards
,
Turdo Vineyard and Winery
, and
Hawk Haven Winery
. Most wineries have snacks of charcuterie boards for purchase as well as flights and bottles of their products. In Cumberland County wineries include
Terra Nonno
, Vineyard One, and
Cedar Rose Vineyards
in Millville.
If you are vacationing with those under the legal drinking age, you might want to check local movie listings to see what's playing. One of Cape May County's newest attractions is
Cape Square Entertainment Center,
which boasts a multi-screen movie theater, a bowling alley, golf simulator, and arcade. and a variety of restaurants. Located in the Rio Grande section of Middle Township (just west of the Wildwoods and just north of Cape May), it's a sure thing that you'll find something for everyone at this attraction.
History buffs will appreciate the unique offerings of New Jersey's Southern Shore Region. Obviously, the area's historic lighthouses are huge attractions.
East Point Lighthouse
, once known as the Maurice River Lighthouse, is situated on the Delaware Bay in Cumberland County, at the mouth of the Maurice River. Built in 1849, this active lighthouse was discontinued by the U.S. Coast Guard in 1941, but efforts by the local historical society paid off in 1980, when the state's second oldest lighthouse was re-lit.
Cape May County boasts two historic and working lighthouses. Commonly called the
Cape May Lighthouse
, this light is technically in neighboring Cape May Point State Park. The climb up the light's 199 steps up a spiral staircase is not for the faint of heart. Constructed in 1823 and opened in 1859, this light is maintained by the Mid-Atlantic Center for the Arts (MAC), which endeavors to preserve, restore, and protect historic sites in Cape May. The second lighthouse on the Jersey Cape is
Hereford Inlet Lighthouse
in North Wildwood. This active light, opened in 1974, is also a museum that facilitates guided and self-guided tours. The beautifully manicured grounds at Hereford Lighthouse alone are worth the trip.
Many local resorts have downtown shopping districts, movie theaters, arcades, restaurants, and historical museums, where families can spend enjoyable time away from less-than-perfect weather. There are a few unique attractions that shouldn't be missed, no matter the weather.
Cape May's Washington Street Mall
is a no-brainer. Lined with dozens of charming shops and eateries in the heart of Cape May's historic district, a person could spend several days of a vacation exploring the offerings in America's Oldest Seashore Resort. Not far from Cape May City, about 3.5 miles north, is
Historic Cold Spring Village
. This living history museum gives visitors a glimpse into life during the early 1800s.
Heading north, on Route 9 in Clermont, is
Woodland Village
. This collection of more than 15 quaint shops provides visitors with everything from candy and other confections to gift stores, cheese shops, and tea purveyors.
In Cumberland County, in Millville, is
Wheaton Village
, an arts and cultural center that emphasizes the artistry of working with glass. Artists in the village demonstrate their craft, and the village contains shops, a nature trail, historical building, and an event center.
For those who prefer sports or other challenges, try an indoor golf simulator, such as
Shore Sim Golf in Cape May Court House
, the golf simulator at Cape Square Entertainment Center, and there is now a simulator at the Montego Bay Resort on the Boardwalk in North Wildwood.
Escape rooms, if you are up to the challenge, can be fun for a family or group of friends. Gaining popularity over the past decade, these puzzles wrapped in enigmas require quick thinking and teamwork to reach the escape goal. Escape rooms can be found in Rio Grande, Villas, Wildwood, Ocean City.
Whether rain falls, you need to get out of the sun to avoid further burns, or you've simply had your fill of the beach, you needn't let non-beach activities dampen your vacation. New Jersey's Southern Shore Region is replete with activities, events, and attractions that are perfect for a rainy day… or any other day.