CAPE MAY, THE GHOSTLIEST RESORT IN AMERICA & OTHER HAUNTINGLY FUN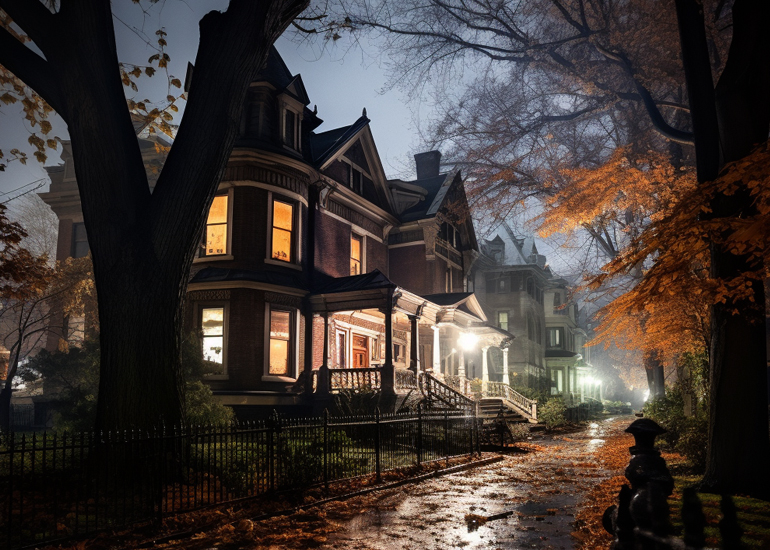 "Ghosts are all around us. Look for them, and you will find them."
When Indian author Ruskin Bond made this observation, he must have had Cape May in mind. It has been said that Cape May is the most haunted town in the country. And while Salem, Mass., may have the claim to being the witchiest resort in the United States, it's a good bet that Cape May is the ghostliest resort in America.
The entire Victorian seaside resort is described as haunted, and possible explanations range from the convergence of the Delaware Bay and Atlantic Ocean at this southernmost point in the state, to an abundance of quartz in the ground. Whatever the reason, there are many people who will swear to the haunted-ness of many of Cape May's fine establishments. Among the haunted hotels are Congress Hall, Southern Mansion, the Hotel Macomber, Stockton Inn, Virginia Hotel, and Inn of Cape May. Additionally, restaurants such as the Peter Shields Inn, the Washington Inn, Elaine's, and the Ugly Mug have reportedly had their share of ghosts, not to mention the Emlen Physick Estate, a former home that is now a museum.
Throughout October – which is considered by many to be the best month to visit Southern New Jersey because the weather lacks the humidity of summer but is still warm – there are events leading up to the spookiest of all holidays. The hub for many tours is the Emlen Physick Estate, operated by the Mid-Atlantic Center for the Arts. In addition to having a spooky Dept. 56 Halloween display at the museum, there are themed tours nearly every day of the week, as well as plays and presentations. Scarecrow Alley at the Physick Estate, 1048 Washington St., is a highlight of the Estate's Halloween decorations. There is no admission fee.
On Oct. 13, 21, 27, and 28 "Phantoms of the Physick Estate," an original play by Jacklyn Fazio, takes the audience along from room to room on the first floor of the 1879 Physick House Museum as the story unfolds and strange happenings occur. The play is staged beginning at 8:30 p.m. The cost is $25 for adults and $20 for children ages 3 to 12.
The Graveyard, Ghosts, and Mansion Tour shares with guests the stories and experiences of ghost activity in the 1879 Physick House Museum from tour guides who know them personally. It starts with a trolley ride to the historic Cold Spring Presbyterian Cemetery to see the graves of Dr. Emlen Physick and his family. Here you'll hear EVPs (electronic voice phenomena) recorded by tour guides and staff at the estate. The return trip to the Physick Estate includes information about unusual Victorian funeral customs. Then, inside the Physick House guests visit several rooms and hear several more EVPs while learning more about the activity observed there. The tours are held on Mondays, Oct. 3, 10, 17, and 24 from 5:30 - 7:30 p.m., and the cost is $40.
The Historic Haunts Combo Tour, held Tuesday evenings from 7:30 to 9:30, includes a trolley ride through the Historic District and stories of haunted Cape May. Step off the trolley at the 1879 Emlen Physick Estate with your guide and see Cape May's only Victorian house museum, reputed to be haunted, as you learn about Victorian spiritualism. In the museum, guides will compare the methods of spirit contact used by the Victorians with those of today's paranormal investigators. Select rooms on both floors are included in the tour. The cost is $25 per person.
Wednesdays throughout the month feature the Strange Victorian Obsessions House Tour at 6:45 and 8 p.m. Victorians were fascinated with mystery and illusion and this tour through first-floor rooms in the 1879 Physick House Museum shares that fascination. Learn about the famous Harry Houdini who captivated Victorian audiences with his intricate escapes, the Goddess of Mystery, Ionia, a Belgian beauty whom Victorians worshiped for her spectacles of magic, The Great Lafayette, who became known as the world's greatest magician, and Pepper's Ghost, an illusion still used today, with Sherlock Holmes, Jack the Ripper and more. The cost is $20 for adults and $15 for children.
For more information or to purchase advance tickets for any of the Emlen Physick Estate or MAC tours, call 609-884-5404 or visit
www.capemaymac.org
Nearly every day is a Spirits & Oddities Trolley Tour focusing on Cape May ghost stories and unusual tales from Cape May history. The Ghosts of Cape May tour is a trolley tour involving tales of hauntings unearthed in Cape May by renowned psychic medium and author Craig McManus. Both tours ($20 for adults and $15 children 3-12) begin and end at the Ocean Street trolley stop in the resort Fridays through Mondays at various times.
Nearby, at
Historic Cold Spring Village
in Lower Township, Saturdays at 8 p.m. will feature Ghost Walks throughout the village. Spiritualist medium Bob Bitting leads participants on a 45-minute lantern-lit ghost walk around the village. He will relate tales of mysterious happenings reported by village staff and revealed by paranormal investigation teams. Bug spray is recommended. As space is limited, tickets must be purchased in advance. On Oct. 20 and 21, from 5:30 to 8 p.m., is the sixth annual Ghoul Spring Village, featuring crafts, games, and a haunted walk. Admission is $5 for adults and $3 children.
Although it is the premier haunted location in the Southern Shore Region, Cape May doesn't have a monopoly on Halloween events. Most municipalities have Halloween parades or pumpkin festivals. Check local listings for those events.
In keeping with the creepy Halloween theme, the
Cape May County Library
, Cape May Court House, will present "Creatures of the Night; Bats of New Jersey" on Friday, Oct. 6.
On Friday, Oct. 13, the Levoy Theater in Millville will host a Friday the 13th Halloween Party. This, of course, is a costume party that begins at 8 p.m. Tickets are $20 in advance and $25 at the door. On Oct. 28 the Levoy will stage the Rocky Horror Picture Show at 9 p.m. Visit
www.levoy.net
for more information.
Misty Meadows Sheep Farm in Woodbine will hold an Oktoberfest from 5 to 9 p.m. featuring hayrides, firepits, games and other activities.
The Ferry Park Fall Weekend will be held from 11 a.m. to 5 p.m. on Oct. 15 and 16 at the
Cape May Lewes Ferry
in Lower Township.
For a more lighthearted event, on Oct. 21 the
Wildwoods Convention Center
will host "Drinks and Drag Queen Halloween Show," a full-scale variety drag show that is sure to be a wicked good time. Hosted by Astala Vista, attendees are encouraged to dress in costume. Tickets are $35 in advance and $40 at the door.
Sunday, Oct. 22, is a busy day in Cape May Court House. From 10 a.m. to 5 p.m. is the annual Olde Tyme Harvest Festival, which is always a great family experience, and not far away, at the
Cape May County Zoo
, is Creepy Jeepy, a decorating contest for Jeep owners and trunk & treat event.
The
Cape May County Library
will host a Lunch and Learn event on Thursday, Oct. 27, featuring a presentation by Historic Cold Spring Village to inform attendees about Cape May's haunted history.
Saturday, Oct. 28 is" Boo at the Zoo" at
Cape May County Zoo
, featuring games, costumes, food, a pirate ship, and obstacle course. This event is from 10 a.m. to 2 p.m.
Also on Oct. 28, the
Lower Township Recreation Center
will hold a spooky haunted trail event behind the recreation center from 6:30 to 9 p.m.
The
Greater Wildwood Elks
will hold a haunted house at their clubhouse on First Avenue in North Wildwood from 5:30 to 8 p.m.
Whether you like being scared or simply enjoy the crispness in the air and the taste of pumpkin spice, if you are looking for a ghoulish October getaway, look no further than New Jersey's Southern Shore.