MONARCH MANIA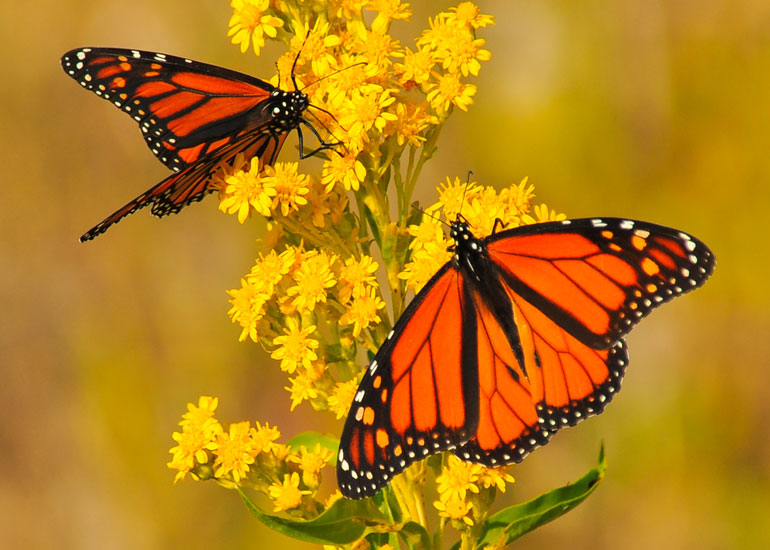 It happens this time every year.
Days grow shorter, temperatures cool, vibrant leaves drift down and Monarch butterflies stop by, and often linger, on their journey south, much like many of our other visitors. The abundant milkweed and goldenrod in our area, a bit annoying to some of us, but critical to these delicate creatures, nourishes them for their lengthy flight ahead.
After an extended stopover in Cape May County, an autumn gift for all of us who enjoy this amazing phenomenon, Monarchs continue their journey, thousands of miles to the high mountains west of Mexico City.
The county, especially Cape May Point, with its peninsular geography, habitats and westerly winds, creates a welcoming environment for Monarchs, one of the most popular eco-tourist destinations in the United States. Another of Mother Nature's mysteries is how these butterflies that weigh less than a half gram – that's a fraction of an ounce – know when it's time to begin their 2000-mile journey and it's unknown what triggers their return in March, the only butterfly species that completes a two-way migration.
From late August through September bushes and trees in and around the Point are laden with thousands of Monarchs – called roosts - as they await favorable winds to continue their trek across Delaware Bay. Despite these amazing numbers, Monarchs were added to the endangered species list this summer, citing declining numbers over the past decade.
Earlier this summer, the Nature Conservancy hosted Monarch Mania at the
Garrett Family Preserve in Cape May
to celebrate a butterfly sculpture by Brazilian artist Rubem Robierb, entitled Dream Machine Monarch, a striking sculpture that emphasizes the importance of pollinators and our area's crucial role in Monarch migration. Even Sam Champion of Good Morning, America was on hand for the festivities – definitely impressive. From late August into the fall, Monarchs stop at the preserve between Seashore Road and Cape Island Creek to feed before their journey south. Ample parking is available at the site but consider a trip on Revolution Rail, a unique and fun adventure that leaves from the Welcome Center in Cape May and travels several miles through the Garrett Family Preserve under your own pedal power along old railroad tracks.
The Nature Center of Cape May
hosts a family fun day Sept. 25th with Monarch tagging, migration information, habitats, crafts and more. Support the Monarch Monitoring Program at the
Cape May Bird Observatory
by adopting a Monarch butterfly, for a donation, that includes tagging details. If your Monarch is found and the tag recovered, you will be notified and receive information about your adopted butterfly. Monarchs tagged in Cape May have been found at numerous locations farther south, even at their final destination in Mexico. How great is that!
Cape May Nature Center, 1600 Delaware Ave., Cape May Cape May Bird Observatory, Cape May Point State Park Garrett Family Preserve, 801 Wilson St., Cape May