THE SPOOKIEST TIME OF THE YEAR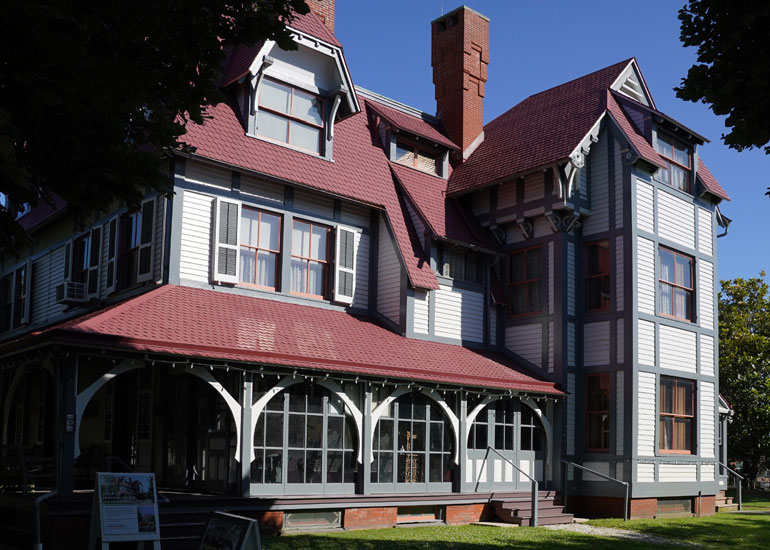 Years back, the imposing but dilapidated mansion
on Washington Street in Cape May looked like the Addams family might live there – Morticia sitting on the rickety porch with Uncle Fester peeking through a broken window. No one doubted that the Emlen Physick House was haunted – how could it not be after decades of neglect from its early days as the most beautiful house in town. The house survived, as did the spirits and ghosts of the Physick family.
Restored to its 19th century splendor, the Physick Estate retains vestiges of its haunted past and capitalizes on that reputation with a plethora of spooky, fun Halloween events that the Addams family – and probably the Muensters - would enjoy, as do residents and visitors to Cape May this time of year.
www.capemaymac.org
Take a Ghost Walk with a local psychic as he points out houses where he has sensed paranormal activity. The Graveyard, Ghosts and Mansion Tour leaves no stone – perhaps that should be no head stone - unturned in the historic Cold Spring Presbyterian Cemetery where the Physick family is buried. Check out the trolley tours - Ghosts of Cape May Tours, Ghosts of the Lighthouse and others - or wander around Scarecrow Alley on the grounds of the estate lined with funny, creative, spooky but not too scary scarecrows.
www.capemaymac.org
The annual Pumpkin Festival Oct. 8th at Historic Cold Spring Village, a Lower Township Rotary Club event, is a day of pumpkin painting, a haunted house at the Village Barn and the popular Halloween parade. Dress up, have fun and be a good neighbor donating non-perishable items to the Share the Harvest food drive. Learn about the haunted happenings at the Village during a lantern-lighted tour with staff members who have experience unusual events and will highlight some of the paranormal activities people have encountered. The hour-long tours are at 8 PM on weekends through Oct. 15th.
www.hcsv.org
It's Boo at the Zoo Saturday, Oct. 22nd at the Cape May County Park and Zoo with the Creepy Jeepy contest as Jeeps, decorated for Halloween, vie for the Best Dressed Jeep and a trophy. For the youngsters there's a costume parade plus an adult costume contest so let your imagination run wild.
www.cmczoo.com
For adults only, there's Drinks and Drag, Halloween Drag Queen Show Oct. 21 at the Wildwoods Convention Center.
www.gwcoc.org
Many towns host trunk or treat nights, today's version of trick or treat, along with parades and other Halloween events. Check local websites for information about dates, times and details.
So, light up your jack-o-lantern and make a date with your favorite witch to enjoy all these, gruesome, ghoulish and fun Halloween activities!
www.escapetothejerseycape.com