Growing Southern New Jersey tourism through marketing efforts
Radio Spot:
Cumberland County Attractions
Glasstown Arts District, WheatonArts, Thunderbolt Raceway
Radio Spot:
Cumberland County Attractions
Cohanzick Zoo, the AJ Meerwald,
Fishing in Fortescue
Radio Spot:
Family Friendly Attractions
Cape May County Zoo, The Ferry,
and historical attractions.

Radio Spot:
The Arts & Amusements
Theatre, boardwalk attactions.
Radio Spot:
Shopping & Retail Districts,
Antiquing, Third Fridays in Millville.
Radio Spot:
Nature, Eco-Tourism & Birding
CLICK TO SEE SOME OF OUR REGIONAL IMAGE ARCHIVE
One of of key strengths is our image library, and it is a resource for media such as newspapers, magazines, books, websites & blogs. Many of of tourism partners also turn to us to provide top-quality regional images.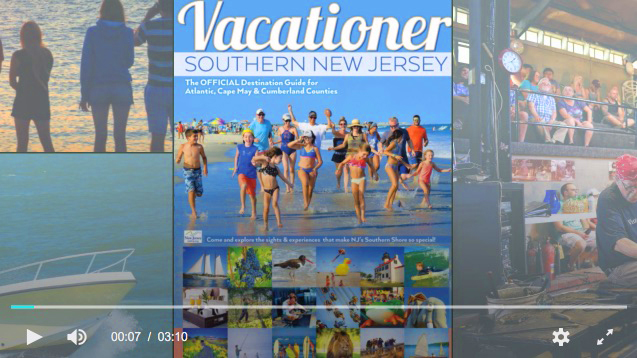 Click to preview The Southern NJ Vacationer
Our award-winning destination guide is the only regional publication that is marketed directly to the Canadian marketplace. Plus the ratio of editorial to advertising is higher than any other visitor guide in the marketplace. We also have the highest concentration of out-of-market circulation. We distribute more than 50% of our guides directly into the hands of vacationers in response to requests that come in via toll-free 800 numbers, our websites, and also through consumer travel shows.